Free Standing
Prebuilt Greenwalls & Dividers
These greenwalls ship fully assembled, just hang them on the wall and add plants.

All-in-one greenwall for any environment.
All-in-one greenwalls are the simplest and easiest way to bring beautiful plants and greenery into any environment. At home or at the office, there has never been an easier way to get a perfect, beautiful greenwall.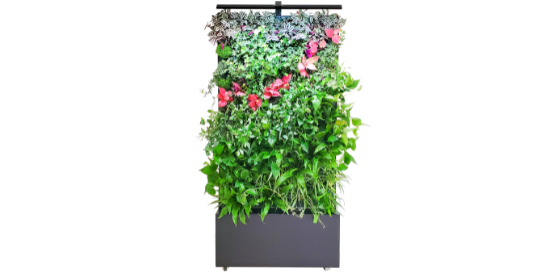 Built in Growlight
The best way to ensure healthy indoor plants is with a growlight that is designed specifically for that purpose.
The built in growlight can be controlled via a smartphone app and set to come on every day and keep your plants healthy
Easy Installation
Minimal set up is required.
The unit ships with all of the components required for a beautiful standalone greenwall or freestanding divider.
The 20 gallon water tank means that no water connection is required.
Instant Effect
With no grow in time required the system holds 70 4-inch plants that will deliver the instant greenwall effect.
Easily change the plants to change the look of the wall.
Features

Specifications

Package Includes
Steel construction

Minimal assembly required (system is prebuilt)

Holds 4" plant in the nursery pot (no transplanting required)

Integrated and automated watering system

Built in Grow Light is included to ensure optimal plant health

Easy installation

Change the plants to change your look
Available in white, cream or black powder coating

43" wide by 83" tall by 15" deep

Takes 70 4" plants
Greenwall system

Integrated pump and timer

Grow Lights
Trade

Discounts
Are you in the interior design or plant business? Find out more about trade discounts or registering to be a dealer. Opportunities available worldwide.
Enquire Below